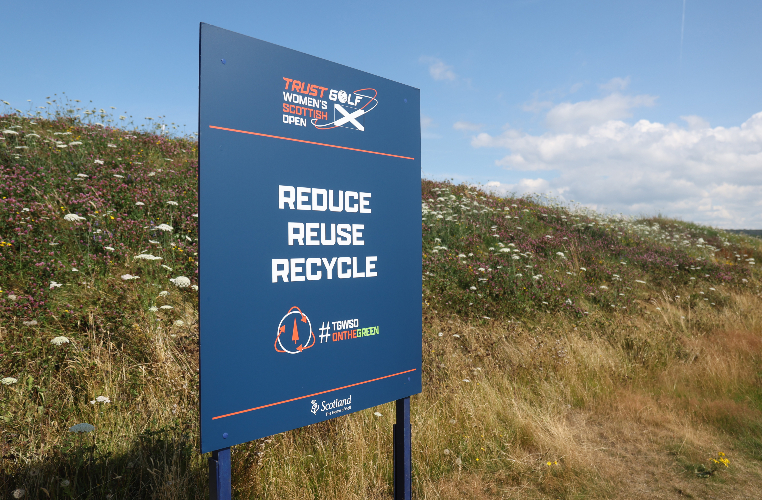 TRUST GOLF WOMEN'S SCOTTISH OPEN SHOWCASES SUSTAINABILITY
Sustainability and climate action were demonstrated throughout the Trust Golf Women's Scottish Open this week with a wide range of action evident at Dundonald Links.
The host site, Dundonald Links, was first GEO certified in 2013 and has been successfully renewed three times since then, while it has also been recognized for its sustainability through Golf Tourism Scotland, Ayrshire Business Awards , BIGGA, IAGTO and by the Golf Environment Awards.
Gailes Marsh Nature Reserve, which is managed by the Scottish Wildlife Trust, sits next to the golf course and gives connectivity to the nature reserve, meaning it is less isolated.
And there is regular liaison with Scottish Wildlife Trust, Scottish Golf Environment Group, Scottish Natural Heritage, RSPB, Butterfly Conservation and Bug-life who help manage the course and adjacent protected sites.
One of Dundonald's main goals is to "get the classroom outdoors" and the golf course is very committed to the community. The species have been well documented by schoolchildren and local naturalists with a small field center set up specifically as an education and study center working with the 'Curriculum for Excellence' to help young people learn skills for life.
The little blue butterfly became extinct in Ayrshire in 1982, but was successfully reintroduced to the region and is thriving through careful consideration of its habitat.
The honey is harvested on site with nectar from sources such as heather, gorse and wildflowers to impart its distinctive sweet flavor and is used in the foods produced.
This week's catering is provided by Hickory, a local supplier specializing in local foods that not only supports local businesses, but also reduces transportation and associated carbon emissions. Additionally, all tea, coffee, sugar, hot chocolate and bananas are Fairtrade products.
In line with new Scottish single-use plastics legislation, no plastic cutlery will be used with all metal cutlery. Glass water bottles are provided to reduce single-use plastic water bottles, there is also canned water and access to a nearby filtered water tap for bottled water rechargeable.
IMG and the R&A are setting up shuttles to transport players to the AIG Women's Open, so they will reduce the number of air travels, while public transport for spectators and cycling are encouraged via social media.
Significant efforts have been made to reduce resources and waste. Dundonald Links has a zero waste to landfill policy and exceptional water management initiatives.
A comprehensive recycling and waste management program is in place with Enva with zero waste to landfill in tournament operations. Bins and signage on the course encourage spectators to use the appropriate bins to help sort waste streams.
There is a reduction in printed materials by offering draw sheets, tournament schedule and key information via QR code.