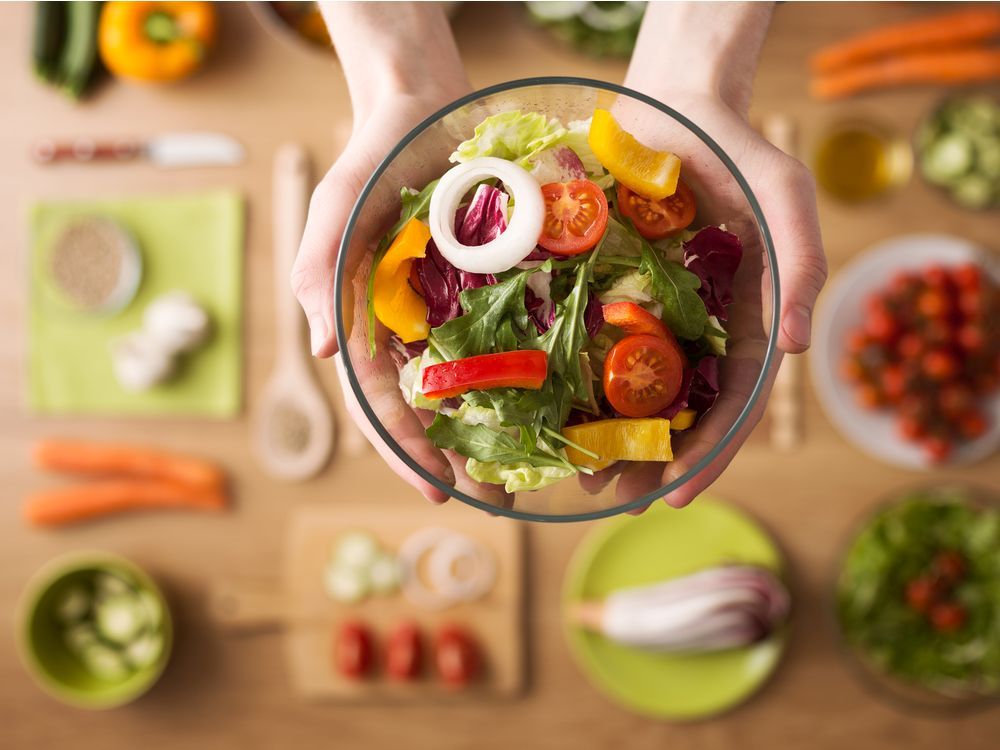 Tired of feeling trapped by food rules? Consider intuitive eating
Content of the article
Allison Warga, a mother of three in Calgary, felt like she had tried every diet on the planet. Between the rush with work and her children, she only noticed her hunger when she sat down – often at dinnertime. This led to nights of constant grazing that never quite satisfied.
Content of the article
"It's very easy as a mum to forget yourself when you're brought up in a diet culture and told you need to lose weight. You want to ignore that you even need to eat," she admits .
But after reading Lindo Bacon's book Health at Every Size, an inspired Warga sought out a dietitian and began working on gentle nutrition strategies that didn't trigger the eating disorders that come with dieting. The result was a mental and emotional catharsis.
"I felt like I had left behind a cult and all its religious dogma. I learned to take care of myself, that I deserve to eat and that my body needs nutrition. It's part of the fact to take care of yourself.
Warga had tapped into intuitive eating.
Intuitive Eating is a food self-management framework created by dieticians Evelyn Tribole and Elyse Resch. It's a very personal process that involves 10 principles ranging from rejecting the dieting mentality to respecting your hunger to challenging the food police.
Content of the article
To date, several research studies have noted the positive health benefits of eating intuitively, which incorporates instinct, emotion, and rational thought. Benefits include lower cholesterol, higher self-esteem, improved body image and lower rates of eating disorders.
Vincci Tsui, a Registered Dietitian and Certified Intuitive Eating Counselor in Calgary, observes that much of our eating is based on external cues.
"We make decisions based on many factors such as Canada's food guide, how much of something is in a bag, or whether it's lunchtime, instead of listening to our own internal cues. Intuitive eating is about letting go of food rules and eliminating guilt. Unless you stole the food, you shouldn't feel guilty eating it.
Content of the article
One of the biggest myths surrounding intuitive eating is that without food rules, a person would naturally eat large amounts of whatever they wanted. That's not the case, says Christine Devaney, registered dietitian and certified intuitive eating counselor at Health Stand Nutrition Consulting Inc.
"You may feel like you have no control over a certain food and this may be because you have labeled it as junk food. The more unconditional permission we give ourselves to enjoy all foods, the less cravings and desires will be intense.This results in more control and freedom around all foods.
Tsui is also susceptible to fears of trusting his instincts, especially among those who have chronically dieted their entire lives.
Content of the article
"Intuitive eating is about letting go of this idea of ​​having to control your weight or eat a certain way in order to be healthy or be considered worthy. It's about getting back to what satisfaction and fulfillment mean to you. well-being. It's liberating and at the same time frightening.
If having a more peaceful relationship with food and your body feels good to you, or if you're tired of counting and cutting calories, intuitive eating could be the way to break free.
Intuitive eating is not a restrictive diet. Its 10 principles provide structure, but they are not hard and fast rules. Think of it more as a guide to finding your inner voice and wisdom.
For Warga, the biggest benefit, beyond the absence of intense cravings, was no longer being afraid to eat.
Content of the article
"Eating breakfast and making time to prepare lunch is what I choose for self-care time. Whatever time you have, you can be mindful and present with your body.
To start eating intuitively, Devaney recommends first taking stock of your eating behaviors and attitudes, ideally without judgment.
"Before you eat, ask yourself if you are physically or emotionally hungry. Think about some of the reasons why you eat the way you do. Notice what factors influence your feelings about your body size," she advises.
By listening to how food makes us feel, how much we enjoy the taste, and how full we are, we are better able to control the amount of food we eat. But make no mistake, intuitive eating isn't about weight loss.
Content of the article
"There is a fear that you will gain weight. And you could. You can also lose weight or stay the same. The key is figuring out which is worse for you — living with an eating disorder or living with a few extra pounds," notes Warga.
More information:
A good place to start is reading Intuitive Eating or visiting the official website: intuitiveeating.org. Vincci Tsui's Mindful Eating Workbook is also a helpful tool.
In Canada, many Registered Dietitians are also Certified Intuitive Eating Consultants. Contact them to learn more about the process and for advice on how to stay on track.
Anyone with a medical condition, who must take medication with food, or who should avoid certain foods should speak with their family doctor before embarking on any new health regimen.
Jody Robbins is a Calgary-based lifestyle writer. Follow her wellness adventures on her blog: Travels with Baggage or on Instagram @TravelswBaggage