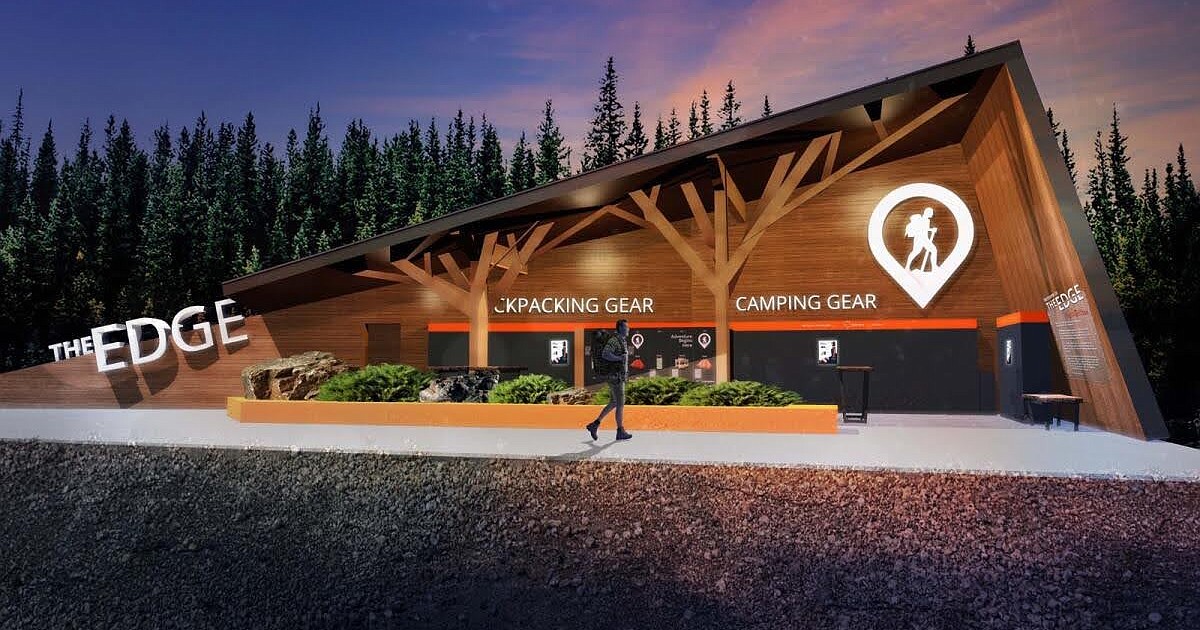 The outdoor gear vending machine is part of the business goal of making outdoor adventure accessible
A new outdoor gear rental and dining facility in Columbia Falls strives to create seamless journeys for adventurers looking to explore Flathead Valley, Glacier National Park and beyond.
Known as the Wilderness Edge, the facility is essentially a giant vending machine for renting outdoor gear and buying meals. Right On Trek, the company behind it, aims to provide a myriad of services for those looking to day hike or head into the backcountry.
Victoria Livschitz, the founder of Right On Trek, grew up in Lithuania and learned to love the outdoors by fishing and picking mushrooms and berries. Her passion for the wilderness blossomed even further when she decided to embark on the John Muir Trail in California. His friends had obtained a permit for the trail and they were trying to find a fourth person to join them.
"When I heard about it, something clicked. It was going to be epic and I wanted to be in on it," Livschitz said.
Trekking has helped Livschitz release much of the stress of everyday life.
"I fell in love with the solitude and the process," she said. "It was the perfect mix of challenge and autonomy. I loved the sense of accomplishment after climbing a mountain pass and the minimalism of thriving in an environment. Many people do not learn these lessons in a protected and civilized world.
Livschitz said the experience was life-changing and taught her to be confident and maintain her balance in life. "It has enriched my personal life beyond my wildest dreams."
It was during this adventure that Livschitz realized she wanted to share this experience with everyone. According to the research department of Statista, more than 57.8 million people in the United States hike.
"But when you ask people if they're recreating enough, they say no. They want to do more, but there are some really big hurdles to getting there," Livschitz said.
The first hurdle to overcome is to make the equipment more affordable. Right On Trek offers backpacking, backpacking, and camping packages starting at $25, $40, and $50 per person per day, respectively. A backpacking package includes a 60 liter backpack, three-season tent and liner, ultra-light mattress, carbon fiber hiking poles, lightweight stove, pot, utensils, filter water, a bear bag, a trough and a satellite device.
"Everything has to be ultra-light and ultra-quality," Livschitz said.
The equipment can be rented separately according to the customer's needs. They also offer a camping package for $35 per person per day, designed just for this experience.
The second component of an enjoyable trek is good food.
"We cook our own meals and that's a big, complicated part of the business," Livschitz said.
Right On Trek's backpacking meals are mostly air-dried, which provides fresher food than other meal alternatives. The packaging is 60% compostable and by next year they hope to be 100% bio-based. Right On Trek's meals cater to people's lifestyles and diets, whether vegan, vegetarian, keto, or gluten-free.
Livschitz said she wants people to eat well in the backcountry. Meals can also be found at over 50 stores across Montana.
The third part of Right On Trek's mission is technology. Rightontrek.com is a platform where trekkers can collaborate, plan their trip, and even create custom meal plans. The website has a tool called Trail Finder to help plan routes.
"It's one of the most impressive databases full of multi-day and single-day adventures," Livschitz said.
Another part of Right On Trek's mission is to educate people about creating good habits to protect the environment while staying safe.
"When people are unprepared, they can destroy the desert," Livschitz said.
She hopes to combat this issue with the proper education and resources and a Right On Trek Education Center is currently in the works. The company is environmentally conscious as a portion of its revenue is dedicated to creating carbon offsets for everything related to shipping products.
In the near future, Right On Trek hopes to have a Wilderness Edge at the entrance to Yellowstone National Park. Their long-term goal is to have a Wilderness Edge in every national park, and eventually go global. The team's common vision has greatly contributed to the company's success.
"Without our team, we wouldn't be able to do what we do at the speed and scale we've done so far," Livscitz said. All team members are highly trained, love the outdoors and have empathy for their customers, she notes.
Equipment can be rented and meals purchased on rightontrek.com.
After ordering, a locker code will be sent to pick up gear at one of many locations, including Whitefish Outfitters, Glacier Outdoor Center and The Wilderness Edge's newest location, located at 1010 Conn Road in Columbia Falls.
Detailed equipment information will also be provided and any questions can be answered via email or a chat function on their website. The equipment is then returned to the same location.
Livschitz and his team are excited to make nature exploration a tangible dream for those who may not have had the resources for it before.
The Wilderness Edge is open 9 a.m. to 5 p.m. daily now with the goal of being open 24/7 in the summer.
To learn more about Right On Trek, visit rightontrek.com or find them on Instagram @rightontrek