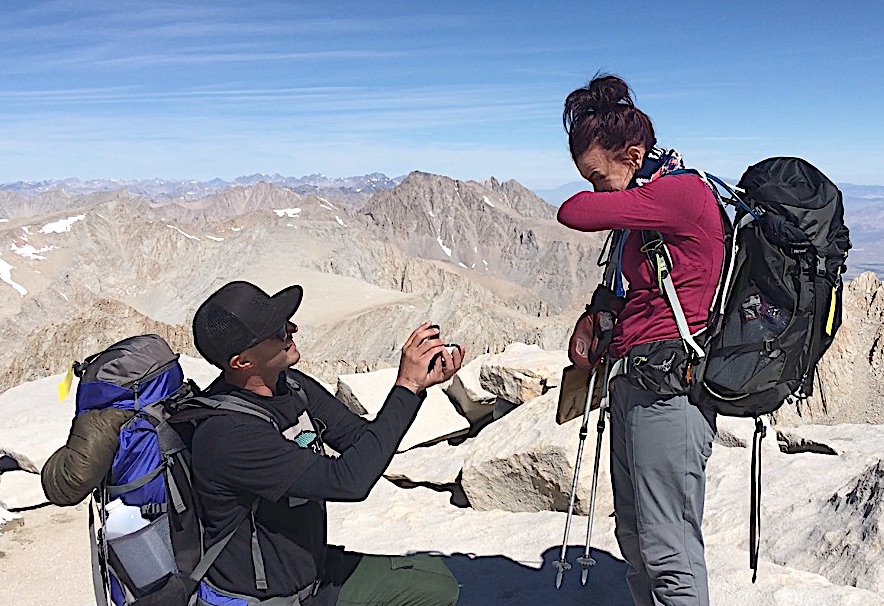 Sandwalkers find love between the lowest and the highest
"A guy could walk this! "commented the surprised Jim Andersen.
"Why the hell would anyone want to do this?" Responded staff at the Furnace Creek Visitor Center in Death Valley. Based on the three-dimensional model map of the area, Andersen noticed a small footnote pasted next to "Dante's View". He said on a clear day you could see both the lowest point in the western hemisphere, -282 feet below sea level near Badwater, and the highest point in the 48 states. contiguous, the summit of Mount Whitney, at 14,495 feet.
The answer to why someone would want to walk from the highest point to the lowest point, at least in the 1970s, was the fad that had taken hold of America: to get into the Guinness Book of Records. .
"Guinness has listed all the superlatives you can think of, like jumping on pogo sticks, pulling trucks with your teeth, filling phone booths and other equally silly stuff," Andersen said.
It was then that he realized he had found his niche: a way to create both a "singular and awe-inspiring achievement."
He would make the trip and be listed in the book.
Remarkably, he was able to speak to three colleagues at the California Paper Mill where they worked to join him. Although they all had physically demanding jobs, Jim writes that "none of the four of us who did this grueling walk were in any way conditioned to do this sort of thing.
"Sometimes a Great Notion…" isn't so much the engaging book he wrote about this personal and collective odyssey filled with light bulbs (and moleskin) that ended up transforming his life.
"You might not even know you're in trouble, but you are," Andersen wrote. "Life has a hole that can only be filled by God, but in our twenties few of us understand it."
Obtaining hiking permits, defining routes and collecting supplies took four years. This was all before the Internet and cell phones of course. As no one had ever done this before, there was no reference material to help them. They were literally walking through dangerous and uncharted terrain, with scorching temperatures, oxygen starvation and the threat of dehydration without a safety net.
But they did, calling themselves "The Sandwalkers".
There are many who are known to come up with wacky and outrageous ideas, but far fewer who actually implement these concepts. The number drops even more for those who have convinced their offspring to repeat the patterns and shenanigans perpetuated from their own youth. Andersen falls into this small statistical category.
Early memories of his daughter Withanee "Withy" Andersen spill over into her father telling suspenseful and often hysterical stories about the Sandwalkers. The fact that these stories permeated her consciousness in the most subtle way as she grew older, it accomplished the most remarkable thing: She wanted to do the same expedition that her father had when she was 30 years old.
With her mother Val and her father as a support team, Withy, her brother Josh Rudelbach and boyfriend Shawn Milligan, they planned the recreation of the legendary pilgrimage. His soon-to-be-published book, "Walk of Ages," was written with his father, providing the perspective of the trek and support team who provided meals and monitored the group's safety ( at least as much as possible). Even though the "2nd Edition Sandwalkers" had cell phones, they generally didn't work.
Withy met Milligan while they were both working as Forest Service firefighters in the Carson Ranger District of the Humboldt-Toiyabe National Forest.
She got all dolled up on their first date. From the start it was special for the two of them, and the next day they ended up working together on the same fire at Heenan Lake in Alpine County.
She was digging a containment line and her face was covered in sweat and ash. Milligan recognized her, but Withy was really embarrassed by her appearance compared to the way he had seen her on their date. He paused to talk to her, sharing a huge smile before continuing towards the fire. She had butterflies all day.
Withy thought she was "really cute" and fell in love.
Even after three years together, he still told her that he "just wasn't ready for marriage." But he kept a big secret.
He received his father's blessing and planned to ask him to be his wife at the top of Mount Whitney on the first leg of the Sandwalkers' "2nd Edition" journey in 2017.
He was afraid of dropping the ring. It was extremely cold when they started the hike but suddenly became warm and calm when they reached the top. It shouldn't have been though, since the support group waiting at the base of the mountain was rocked by high winds and clouds were tearing apart around the summit. It didn't look good from their perspective, but there was a nice little circle around the couple who were calm, still, and even a little warm.
Out of nowhere, she actually got cell service, FaceTiming her family with the exciting news. As soon as they hung up, she completely lost all connection. Needless to say, Withy was on top of the world when he asked her to marry him (or at least on the highest point of the contiguous United States). They were married the following year, with their dog, "Rewind", as a witness.
Withy and her father both had knee injuries during their individual hikes, having to use trekking poles as crutches or just limping to cover the 131 miles.
After the "Original Sandwalkers" he walked "America's loneliest road to a cheerful Bermuda Triangle where wild individualism and community spirit flourish amid sagebrush and vast open spaces" .
University of Nevada Press published his book on this chapter of his life: Lost in Austin: A Nevada Memoir. Both books written by Andersen are available on Amazon now. You will have to be patient about the walk of the ages of Jim and Withy to be released, but hopefully it will be next year. In the meantime, you can read Andersen's humorous blog at www.rurallyyours.com.