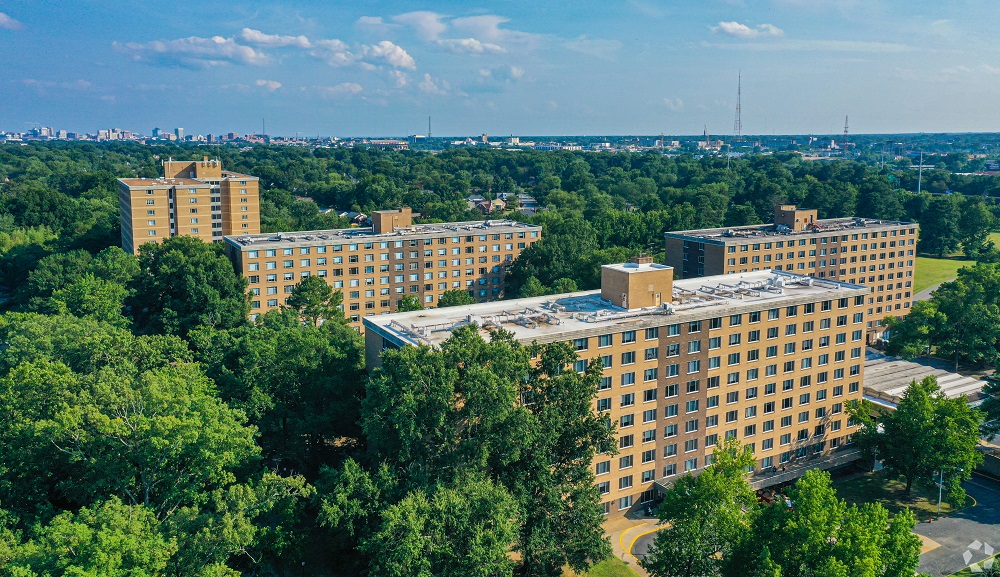 Modernization of the former Imperial Plaza complex continues a year after the sale
Owners of the former Imperial Plaza in Northside have a year to renovate the long-standing seniors' housing complex as a so-called 'adult working' community, though one of the biggest planned updates is yet to come. to come.
Renamed Legacy at Imperial Village, the 26-acre multi-building resort at 1717 Bellevue Ave. has undergone a multi-million dollar refresh of its interiors and grounds since its purchase last year by Brentwood Investment Group and Bluestone Group.
Common areas and hallways have been updated with new lighting, paint and design elements, and new amenities, including pickleball and bocce courts, have been added to the grounds. A redesigned lounge opened earlier this year, and the community restaurant and other dining and shopping options have been revamped.
Apartment renovations are still ongoing, with 150 of the planned 830 units completed with new stainless steel appliances, bathroom fixtures and other upgrades. Work also continues on the Assisted Living Wing, where the ground floor has been converted into the main community lobby.
But the biggest capital improvement planned for the site – a new outdoor swimming pool – has yet to start. Engineering for this project is still underway and the city's first permits were recently granted, Brentwood Manager Barry Zolty said. He said they hoped to start construction in the coming months and complete the project after about four months.
Plans call for the pool to connect to an open portion of a building that was previously used as an auditorium. This space is being converted into a community hall and fitness centre.
A new library now sits in a converted lobby, and other building lobbies have been updated with brighter colors and LED lighting.
Of all the updates underway, Zolty said the change in dining options is one of the biggest, with an in-house team now running the renamed Legacy Club restaurant, and LIV Tavern bar and Bellevue cafe. Bistro renovated and reopened.
Brentwood and Bluestone had brought in Hannah Brown and Matt Dougherty, owners of Fat Boy's Bar & Grill in Sandston, to consult on the Legacy Club. Zolty said the restaurant's volume had reached a level where it would be handled internally, which he describes as a move away from an old institutional-style meal plan and operating model.
Although he said LIV's occupancy had "a downturn" during the initial transition from assisted living — a process that involved moving those residents to other assisted living facilities in the area — Zolty said said rental activity has been steadily increasing ever since. He said the occupancy rate is currently over 80%.
Steven Wilkins, LIV's regional operations manager, said they had moved some residents away because they planned to use assisted living care provided by the former Imperial Plaza operator. The transition to solely independent living follows Brentwood and Bluestone's vision to transform the resort into what Wilkins said they now call a "50+" community.
Where most "working adult" communities are targeted at residents 55 and older, Wilkins said they changed their marketing to 50 and older based on community response.
Wilkins, who previously worked at Imperial Plaza in a similar role and was recruited after he left in 2020, said he was impressed with the work done in LIV.
"Being involved and seeing how things used to be, what Brentwood was able to do in 12 months was inspiring," Wilkins said. "It's a process when you're talking about a project of this size. And we are not done. There is still so much to come.
New Jersey-based Brentwood and New York-based Bluestone bought the 1960s-era resort in early 2021 for $75 million. They did not specify how much they are investing in the renovations, but described the effort as a multi-million dollar investment.
When completed, LIV is expected to total approximately 830 apartments, a reduction from Imperial Plaza's 950 units. Wilkins said all apartments will be renovated.
"We replace all deadbolts and doorknobs," he said.
Apartments range from 360-square-foot studios to 1,700-square-foot two-bedroom units, with rents ranging from around $1,000 a month for studios to $2,100 for a two-bedroom, according to the site. LIV website. Units on the corners of buildings are marketed as penthouse apartments, with units on higher floors enjoying skyline views.
Elsewhere in the buildings, artwork depicting local landmarks and scenes now decorates hallways, and large flat-screen TVs equipped with DirectTV have been added to community rooms. High-speed Internet is being added in the rooms and Wi-Fi is made available in the common areas.
Access to the lounge, dubbed the Legacy Lounge, was moved from the outdoors to the indoors, where LIV also has a pharmacy, grocery store and other services for residents. Wilkins said they were looking to add a bank, but said the process had been delayed by the pandemic. A doctor's office is also provided.
Outside, a fenced-in playground that used to be next to the new pickleball court has been converted into a dog park, as the community allows pets over a certain size with additional rent.
Zolty said the changes to LIV go beyond physical improvements.
"The vibrancy of the community is radically different," he said. "The place has just been cleaned up, and the volume of people participating in daily activities and trips has increased. We have up to 100 people who participate in a dance that we organize every month.
Zolty added, "You see people alive and there's a wonderful sense of community. It is visible when you enter it.
During a recent tour of the buildings, a resident told a reporter he was pleased with the changes.
"It's much improved," he said. "Everyone benefits."