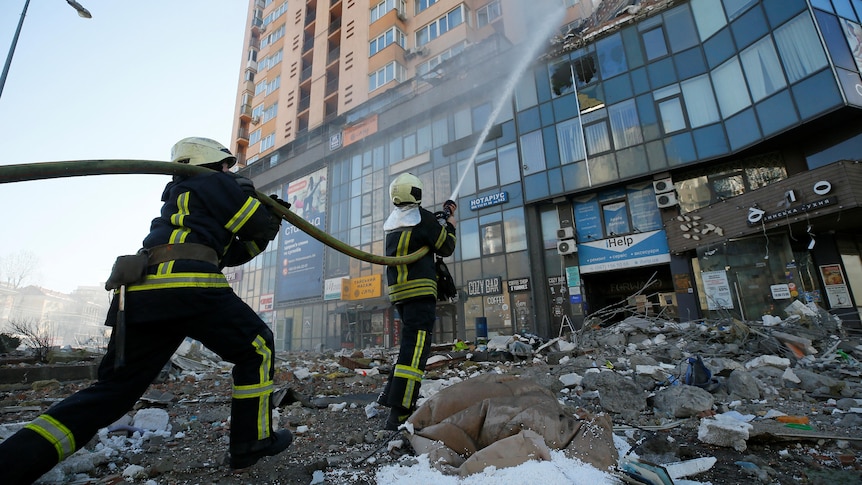 Live updates on the Russian-Ukrainian war: fighting breaks out in the streets of Kiev, mayor says, no casualties confirmed
Russia bombed Moldovan-flagged chemical tanker and Panamanian-flagged freighter, Ukraine says
Ukraine claims Russian warships shelled a Chemical tanker flying the Moldovan flag and one Panamanian-flagged freighter Friday local time.
They are the second and third non-military vessels believed to have been hit since the start of the invasion after a Turkish-owned cargo ship was hit from Odessa on Thursday.
Ukraine's infrastructure ministry said the Moldovan-flagged ship Millennial Spirit was carrying 600 tons of diesel at the time of the attack.
The Moldovan Naval Agency said the crew members of the Millennial Spirit were Russians and two of them were seriously injured.
Ukrainian shipping agent Stark Shipping, based in Odessa, said another cargo ship hit by Russian missiles "was flying the Panamanian flag". [and] was heading towards the port of Pivdennyi (ex. Yuzhny) load grain".
"There was a fire on the ship, the P&O STAR tug moved to rescue. The situation is under control", added the company.
The Maritime Authority of Panama has urged ships to keep "maximum vigilance and reinforce safety conditions on board"when moving through Ukrainian and Russian waters, the Black Sea and the Sea of ​​Azov.
Reuters reporting