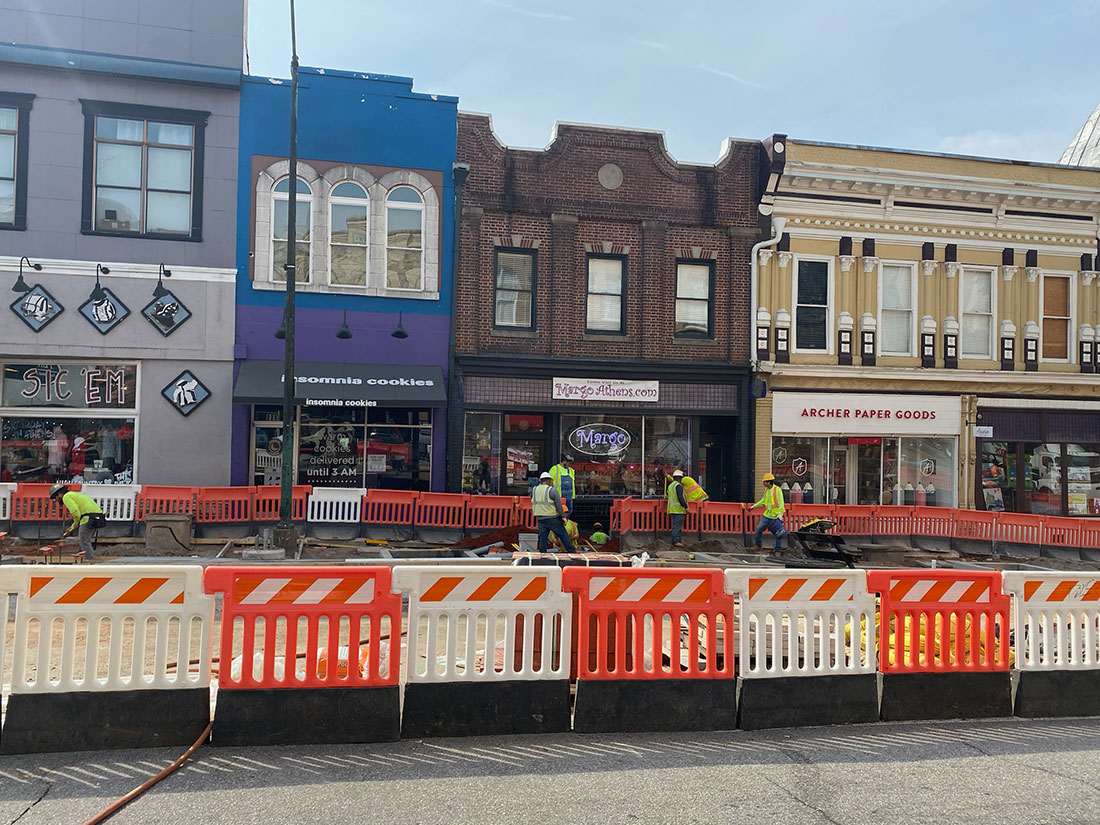 Clayton Street Construction has struggling downtown businesses
Each version of Athens is a little different, depending on who you ask. When we imagine what sets this city apart, our imaginations may intersect on essentials, such as the importance of our friends, families, and our versions of fun. When I think of Athens, I imagine the city center on a Friday night, filled to the brim with students and townspeople slipping into bars, visitors lining up to hear local bands, Christmas lights coming from the streets. Arched trees of Clayton Street.
That's what I'd like to imagine, but the reality is this: the lights are gone, the trees have been torn down, and construction is expected to last until April 2022.
Construction is temporary, of course. The city center will be beautiful when the project is completed, later than originally planned. City officials, the construction company, and workers sweating in the Georgian sun are all doing their jobs to make this happen. Business owners and the hundreds of employees who work downtown are all doing their jobs to keep their stores open.
It's not enough. The unique patchwork of downtown bars, shops, businesses and event spaces is unraveling. Sales have been down since last spring when construction began. In several cases, sales are worse now than they were last year, at the height of COVID restrictions. As parking lots and sidewalks are blocked off, as construction progresses along each street, customers barely flock. Many customers don't even realize that businesses in construction zones are still open, as personal advertising can only reach so far. Without customers and sales, doors struggle to stay open and employees are slashed.
If nothing changes, if there is no relief or no common ground found, then all of our versions of Athens will cease to exist. Stores that have been open for more than 20 years will close. Preferred late night meals will close. Local businesses will close. The local tax base will shift until only Targets and other big box stores can afford to stay. The landscape of Athens will change.
It's not necessary. We sincerely understand how complicated and complex the process of beautifying, updating and modernizing downtown is. We fully support these efforts, and are just as excited as everyone to see the end results. The business is huge; construction and legal work are difficult. We know. So we would like to reach out with one hand to offer support and the other for help.
Recently, we had a positive meeting with the mayor and other city officials. We are very grateful to have had the chance to have an audience with them regarding the construction. Meeting time overlapped with most of our business hours, so attending was a challenge, but a list of invited businesses asking for help is probably familiar to you: Margo Metaphysical, Taqueria Tsunami, High Country , The Grill, Bear Hug Honey, Tena's, Chick Music, Native America Gallery, Eddie's Calzones, Aurum, Archer, Utage, Pitaya, Barbaritos, Insomnia Cookies, Arden's Garden, Mellow Mushroom, Onward Reserve, The Cheeky Peach, Community, fab ' rik, The Impeccable Pig, Cillies. The list is long and other stores wish to remain anonymous but are struggling as well. Now imagine Athens without these companies.
Several ideas for solutions to help us were on the table. One request is that the city provide advertising, via social media and elsewhere, that all businesses are, in fact, open. The second big request we had was free parking for customers. The city is thinking about it.
There may be a way, especially during the football season and the holiday season ahead, to help us increase our sales and rework. The main difficulty in getting customers in was parking. If the parking lots were free for everyone who has a receipt, we think it could definitely support us. Other supports were discussed: stimulus grants, tax breaks, encouraging landlords to give rent relief to business owners. The mayor's office also discussed increasing the number of workers on the project and increasing their hours, which would certainly help too.
Businesses in downtown Athens do their best to keep doors open and workers employed. With a little help, I know we'll get there.
We have to get there, so that our versions of Athens will continue to thrive and live on for the next generation of students and city dwellers and everyone in between. Many of our families have been raised here, our friends have made themselves here and our fun will be here downtown if we can make it happen.
We can. With support and help, that will be enough.
Fredriksen runs the Margo Metaphysical blog.
Do you like what you just read? Support Flagpole by donating today. Every dollar you donate helps fund our continued mission to provide Athens with quality independent journalism.