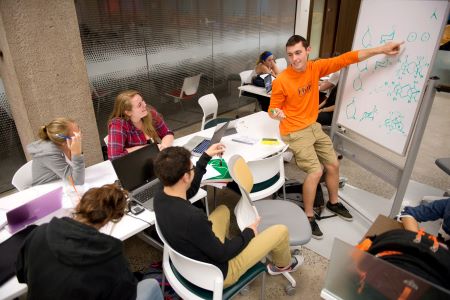 Additional working sessions on the markup of online courses planned
Five online working sessions will be held between the beginning of October and mid-December to allow faculty members to obtain advice on the integration of Shared competences of the university in their program of study and to have assistance in completing the course labeling process.
The One Hour Zoom working sessionshosted by the Senate Ad Hoc Committee on Shared Competencies, are scheduled for the following dates:
Thursday, Oct. 6, at 1 p.m.
Wednesday, October 26 at 11 a.m.
Tuesday, November 8 at 3:30 p.m.
Friday, December 2 at 2 p.m.
Friday, December 16 at noon
The Shared Skills initiative is a collaborative, University-wide initiative with four primary goals: to help all undergraduate students, regardless of major, communicate the value of their degree to potential employers and graduate schools ; provide avenues for all students to explore connections between their major field of study, liberal arts requirements, and extracurricular or other experiences; allow all undergraduate university programs to integrate the learning objectives of the University into the curriculum; and meet the University's accreditation requirements for the Middle States Commission on Higher Education. A key aspect of the initiative is course tagging. Course labeling ensures that the curriculum is transparent to students and allows them to make connections between their course assignments, projects and experiences and the University's learning objectives.
Registration for sessions
Teachers can register via the Shared Skills website. Participants should bring copies of the course syllabus, assignment prompts/instructions, and feedback tools for reference. A questions/answers page on shared skills, a lesson marking toolkit And one instructional video an explanation of the five-step course labeling can also be found on the shared skills site. Examples of successfully tagged courses are displayed for additional guidance.
Group sessions available
Provost Shared Skills faculty member and associate professor of geography and environment, Anne Mosher, says the team can also hold school/college or program-level work sessions where colleagues can combine courses in a community setting.
The work sessions have proven to be beneficial and effective for the course labeling process, says Mosher. She reports that reviews by the Senate Ad Hoc Committee on Shared Skills indicate that professors who participate in a working session or use the course labeling toolkit and other materials have a high rate of success in first-time label approval. Efforts to complete course labeling are greatly appreciated, says Mosher. "Chris Johnson, Associate Vice Provost for Academic Affairs, the Senate Ad Hoc Committee on Competencies, IEA staff and I are truly thrilled and impressed with the work being done in the undergraduate programs and the one-to-one teachers," says Mosher. "While there is still a long way to go before the sophomore deadline of May 31, 2023 to have every required undergraduate course that meets the requirements marked, together we are off to a good start that the campus can be proud of. .
Glenn Peers, professor and director of undergraduate studies in art and music history, says the working sessions are helpful. "The tagging session was extremely helpful in bringing my department together to discuss important issues not only regarding this initiative, but also educational issues that we hadn't discussed before," says Peers. "It was a productive and efficient process thanks to the session facilitator's input and guidance."
Kelly Chandler-Olcott, acting dean of the School of Education and Laura J. and L. Douglas Meredith Professor for Teaching Excellence, agrees. "Our school-specific sessions – one in-person, one online – were invaluable. IEA Associate Director Amanda Johnson Sanguiliano and Anne modeled the various components of the form and then provided on-site coaching during that the participants were working on the answers in the context of their own lessons," says Chandler-Olcott. "Being together in a shared space to do the work made the work less daunting and allowed the questions that arose for one person to 'be directed to others to whom they have applied, creating a common understanding throughout our unit."
Committee reviews
Overall, faculty have given serious thought to the idea of ​​tying shared skills into their courses, says Joyce Zadzilka, professor of accounting practice at the Whitman School of Management and member of the Senate Ad Hoc Committee team on shared competence which is responsible for reviewing Keywords. She believes the committee's work was objective and supported the faculty members' rationale for their choice of labels and she says having a second reviewer has been effective for the process.
"Even if we have questions, the intention is to ensure the validity of a course label so that students can trust any decisions they make based on shared skills. It's really useful to have a second eye on tag requests for validation," says Zadzilka. "Any discrepancies in team scores are easily resolved through discussion and there are usually give-and-takes on items where a team member had a strong opinion on a particular point.
good progress
Great progress has been made in the first year of the two-year course tagging initiative, with 1,326 discreet tags having been placed on 740 courses by mid-September. That number represents about 50% of the total number of courses that need to be labeled, says Johnson Sanguiliano. A overview of progress made regarding the six skills is posted on the shared skills site.